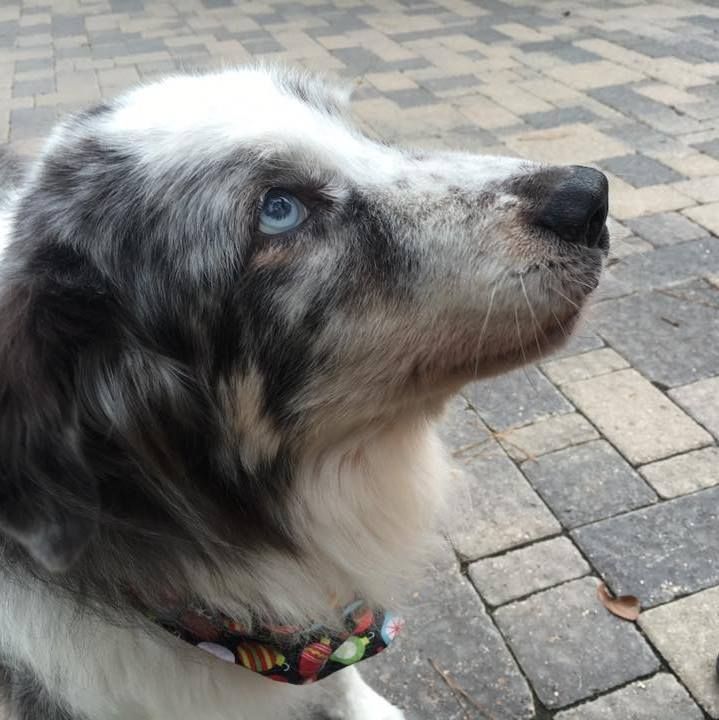 Koala
Koala is now playing with Kodiak , Mackie , Katie and Keebo ... RIP my sweetest boy . Your Dad and I loved you so much ...
Koala was found by MC animal control in a hog pen in Conroe with his mom and numerous siblings. K-9 Corral was the rescue group that pulled him from the shelter at a time when the kill rate was 85% . No adoptions happening . Only rescue groups could save them . Chuck and I decided that Kodiak our Newf needed a buddy so we started thinking of where to go . I knew we needed to rescue a dog and we really were looking for a housetrained dog between 2-3 years . Only female too !
This was in Feb of 2000.
At the time I knew basically nothing about rescue but we had seen these folks at Petco at various times so we decided to try them first . So we stopped in and as I looked for an adult Chuck had seen a litter of pups and picked up this gorgeous little blue eyed boy and brought him over to me like a little kid and said " look at the baby !!"
That was it . We took him home and Kodiak took great care of her little brother . We were such newbies at rescue I can remember called my the rescue coordinator and begging her to take more of the pups from the shelter as this pup was certainly a genius!!! He housetrained easily at 3-4 months ( est age at adoption) and we could not believe that such fabulous dogs just like him were being killed in such high numbers.
Koala loved doing anything as long as he was with us . He passed his good citizenship class with flying colors and he was pretty good at agility too . He was not a speed demon but he was thorough. He loved his trips to the dog park . I would hold his leash and he would run next to
My bike during the 1/4 mile trip
There . He was always a bossy boy and would herd and bark when he thought play was too rowdy . He was the referee . He would steal Keepers ball and was delighted when she barked at him
In frustration . You could see him smile as he tormented his younger sister . Eventually he would relent and let her take it back but with a very satisfied look that said he had his fun .
Koala and I were also involved in the Therapy Pet Pals of Texas program . Every other week we would go to Health South and he would suck up to everyone there . Patients or employees he loved being the center of attention . We would go through his routine of tricks ... High fives, spinning ,under my legs , speak ... He would bring a smile to so many faces . One day we walked into a room and I asked the elderly lady if she would like to visit with Koala . Her head had been in her hands and she looked depressed . She looked at me and said " why yes honey ! Koala is the best part of my day !" When we left she was smiling and so were we. I was so proud of my boy .
After starting our non profit basically due to my increased awareness of the horrible plight of animals in Montgomery county ( I was a NJ girl and this state with their lack of proactive animal welfare policies made no sense to me) I had less time to do one on one stuff with our dogs and that is one regret that I will carry with me . Today I will start giving our remaining 10 dogs the attention they deserve .
When we ended up losing Kodiak at 14 years Koala licked her face to say goodbye .
I could always count on Koala to be the first to the door when I walked in . When I had a rough day he would put his head on my lap and bring a smile to my face . He never failed at this . I could count on him to be good with any new foster dogs ( 70 plus) and he would show them the lay of the land in his bossy but not bullying way . I often called him the Best Boy in the Universe and no dog for me could ever match up to his sweet devotion and unending loyalty .
Koala .. You were the Best Part of my Day for 16 years . Thank you for coming into our lives and being the best dog there could ever be . Now go boss Kodiak and Mackie and Katie around in the dog park in the sky . We love you our bestest boy .
Everyone .. Hug your dogs fiercely tonight and tell them they are the best dogs ever . They all deserve to know that .
♥ Meredith Gonzales