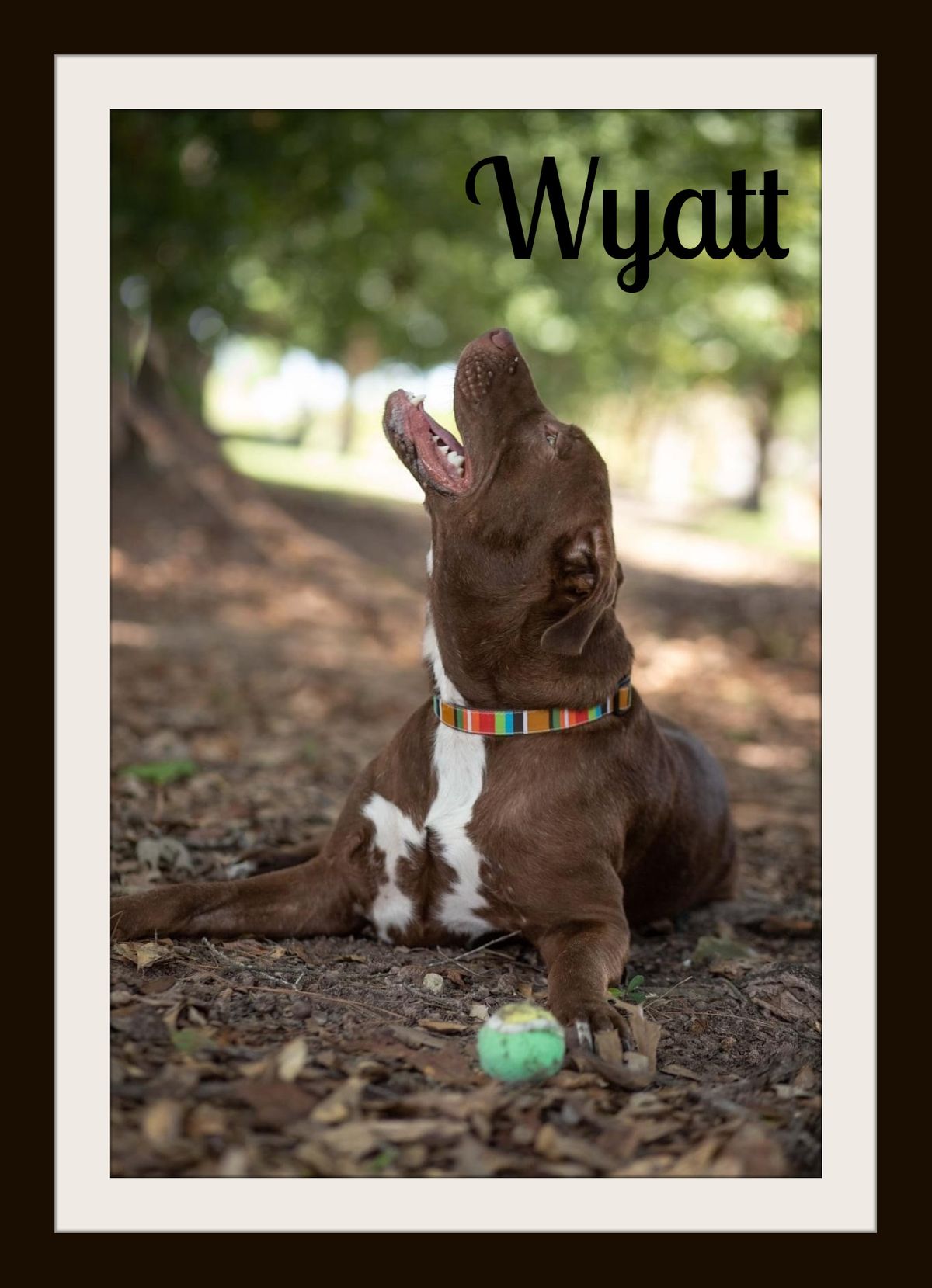 Wyatt
Wyatt is our foster dog and came to be with us on March 11th. He is a big beautiful boy,( 80lbs) gentle, affectionate, goofy and well behaved, who hasn't met a person he didn't befriend. His general disposition is quiet considering his young age of about 2. He lives with us, our two young dogs and a cat. They are getting along just fine, but not without a few learning curves as would be expected so we did take it slow as anyone should with any new pet particularly one that has been through what can only be imagined for this pup. He has never tried to chase the cat, and seems to have a respect for him, they get along well. Dog socialization, and introduction is encouraged through our group walks with new dogs and the places we go, he has done very well. Wyatt is always excited to go for a walk and it's a pleasure to take him using the gentle leader, he listens and knows both verbal and leash commands. We see lots of dogs on leash and he is quiet and behaved. Is happiest to follow you around and does have some separation anxiety (barking) which we are working on including cameras to aide us. We use his crate for two things, with no protest on his part; once we retire for the night (has to get off our bed) and if he's left alone with the other dogs. Having said that he is no trouble when free to roam in the house alone; was only destructive once early on and we learned from that. No counter surfing, jumping on doors, window sills, not an escape artist or a door rusher on company, screen door unknown, good in the car, including a helping lift.. He will let you hug him, take something away, touch his food bowl, mix meds in his food, check him out head to tail, luvs being toweled off, good about trimming his nails and even "spit that out" when told. I'm really going to miss this dog. He is so deserving a forever home.
Wyatt was picked up in Texas July 2020 as a stray in extremely bad shape. Through the efforts of LSAWL was treated and had ACL surgery. His weight is where it should be and his skin is completely healed. Last fall was adopted by a family who had another dog that he would really play hard with and it was unfortunately counterproductive to his ACL. His rehoming is to no fault of his own. We've structured his exercise to strengthen his leg and he's doing really well now. So probably for him a calmer household where he won't get ramped up with too much play is beneficial. No off leash unless light exercise in preferably a fenced yard, which he does enjoy just to hang out in. He really thrives on structure in his day. Probably best with adults with older children or someone that will be around more often than not. A savvy dog owner that will love him and recognize his limitations will be rewarded in return with unconditional love and devotion.
Wyatt is being fostered in the Cape area of Massachusetts .