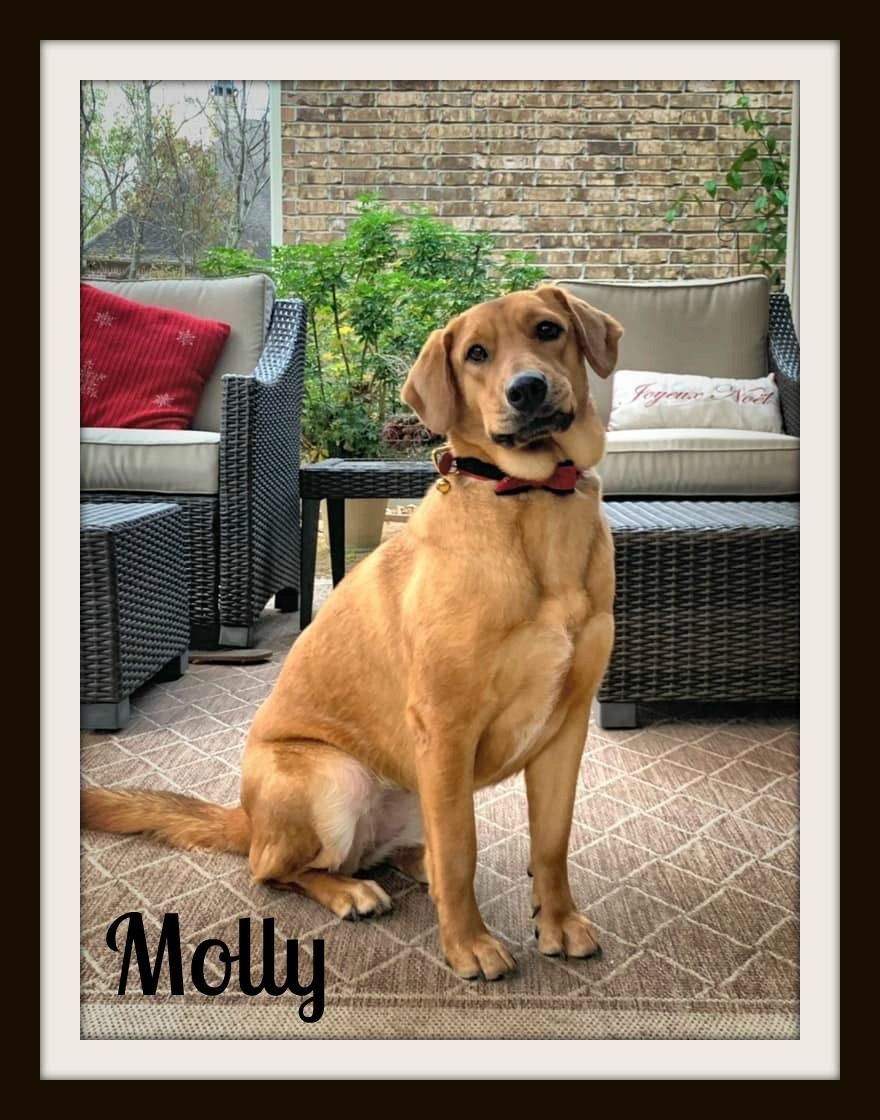 Molly
The lovely Molly is a fun young lady, currently under the tutelage of Homer D., the elder statesman of his household and also an unwanted dog at a dark time in his life . Gorgeous Molly is a darker golden lab, approximately 3 years old, in good health,and ready to start reviewing applicants for her new home.Homer has been instructing her in suspicion of squirrels, leash walking, and the joys of peanut butter. Her foster mama is introducing her to the privacy and safety of the Dog Cave (aka crate-training). Molly has only been in foster care a short time, and has her doubts about this cave thing, but once in, she settles quickly and sleeps for a few hours.
She is coming along well , usually with Homer by her side to whisper encouragement. She loves humans of all ages, cats, other dogs, and toys. Inside the house among her humans, she is medium energy, loves attention, and will follow her humans around, hoping for a quick bit of lovin'. Outside, playing in the yard with the other household dogs, she is medium to high energy, and hopes the New Year will bring her a home with another dog playmate as well as a big yard to run and play. She will need regular exercise to burn off some energy at her young age.
Molly is shy of humans approaching her with something in their hands, but once she has met them, she is fine with them. She loves to snuggle with people, play with toys, is a good girl about not getting into things she shouldn't. She is very smart and a quick learner, and best of all, has had no accidents inside.
Resident Labrador Homer posted this about her on Facebook: "As some of you may have already seen, I have a student. I agreed to come out of retirement just this one time to help a friend out. Her name is Molly and she's an exceptionally good student. She came to us pretty well trained but we do have a few things to work on.
Our first discussion surrounded peanut butter. I was shocked to learn that she didn't even know what it is. So we got out the peanut butter for her first tasting. She was very hesitant at first, but I finally convinced her to try it. She loved it and peanut butter will prove to be an important tool in her training.
I introduced her to squirrel chasing. Even though a bit slow, she's a natural and I went ahead and signed her off on that.
She's potty trained already so I went ahead and signed that off.
I was teaching her the finer techniques food begging, specifically the nose nudge and sad eyes routine. She shared with me a technique of her own where she employs a nose nudge, then does a cute little dance. Brilliant and very effective!
We're still working on crate training "
This lovely girl is heartworm negative, spayed, up to date on all vaccinations….a complete package! To meet her, we require a completed application, vet references, and a home visit should Molly choose you.
Applications are online www.lsawl.org or contact lonestarlabadoptions@gmail.com for further questions