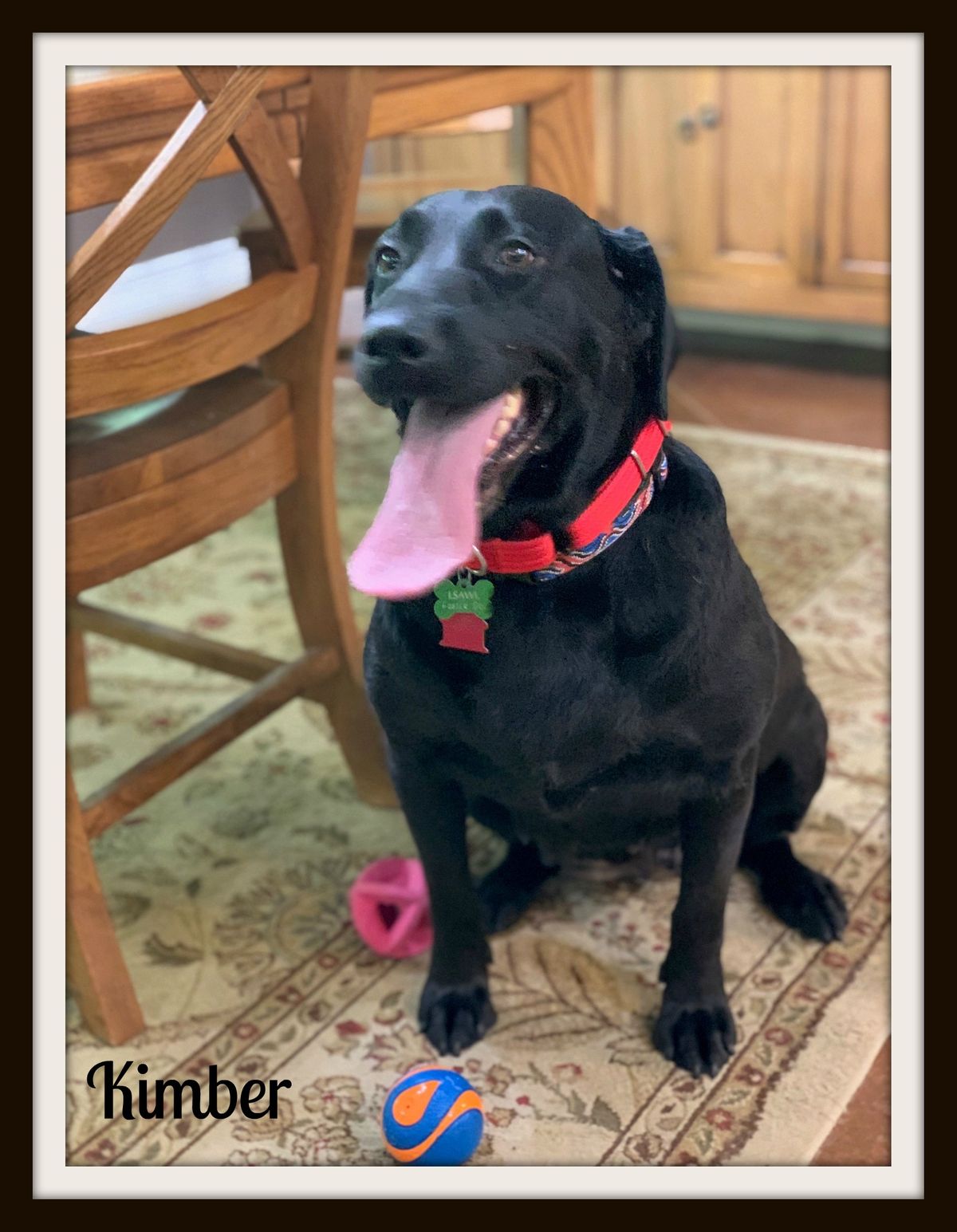 Kimber
KIMBER 2019
Kimber is a gorgeous black female, certainly voluptuous, for a lady lab, tipping the scales at about 75 pounds. We estimate she may be 4-5 years of age. She seems to be a purebred Labrador, possibly used as a breeder. We think, based on her drooping lady bits, that she may have had a number of litters. We can tell for certain she has not been an inside dog, but she has loved the transition to air conditioning, cool floors, toys, canine playmates of all sizes her own private 'den' (crate), and hands to pet her.
Kimber has totally bonded with her foster mom. She wants to be near her at all times, will paw for attention/belly rubs. This sensation of a loving human may be new to her as well. She was ecstatic when she got the hang of fetch and joyfully returned the ball again and again. It's the little things that make her happy. She has no interest in the foster family's pool, except as her personal and very large water bowl. She may have a tendency to be a flight risk until she bonds with a new family which would happen within 5 days with patience and high value treats ! Her life has not been ideal to date and she may be expecting more of the same treatment she got before landing in a cushy foster home and being vetted by LSAWL. Now that she has been in the foster family about 6 weeks, she seems much less interested on life outside the fence.
She loves her crate….she loves all crates, even ones so small you'd expected her to need the jaws of life to free her. It's her own space, her safe place. She has not been exposed to cats, but has shown no interest in squirrels. Her lab card could be pulledfor THAT!
She is perfectly house trained, but is not an efficient eliminator outside. She may need to sniff/squat 2 or 3 times to empty her bladder (possibly from the strain of many pregnancies?) and will require reminding for a wander/sniff/poop. She has never soiled her crate.
Kimber has yet to bark in her foster home. This is a big plus if you have previously had a dog who lost his cool when phone/doorbell/UPS happens.
She prefers a calm environment, and might do best in a home without children as she is sensitive to sudden noises. Also, if you have door-slamming, back-talking teens under your roof, she is not for you. A retired couple might be ideal….someone home much of the day, with a set routine. She seems comforted by such stability, and probably a busy family going in all directions would not be her first choice. This girl is a furry diamond in the rough (ruff)
Please go to Www.Lsawl.org for an application .